This last Saturday I was finally hoping to put in another big day on the Lazy Weekend build.  However, it wasn't meant to be.  Instead the family went to the Museum of Natural Curiosity.  Not that I am complaining.  That's a pretty fun place, and it was a good day.
I did however manage to get a bit of work done.
I asked my neighbor if he would help me cut out the stem and stern pieces for the canoe.  As I have mentioned before, I don't have a table saw, and these pieces are designed to be cut out on a table saw.  My neighbor assured me that he would be happy to help.  If I put this design into production for our big Scout trip this summer I am absolutely going to take him up on his offer.  However, for this build I wanted to see if I could shape the needed pieces without a table saw.  It turns out I could.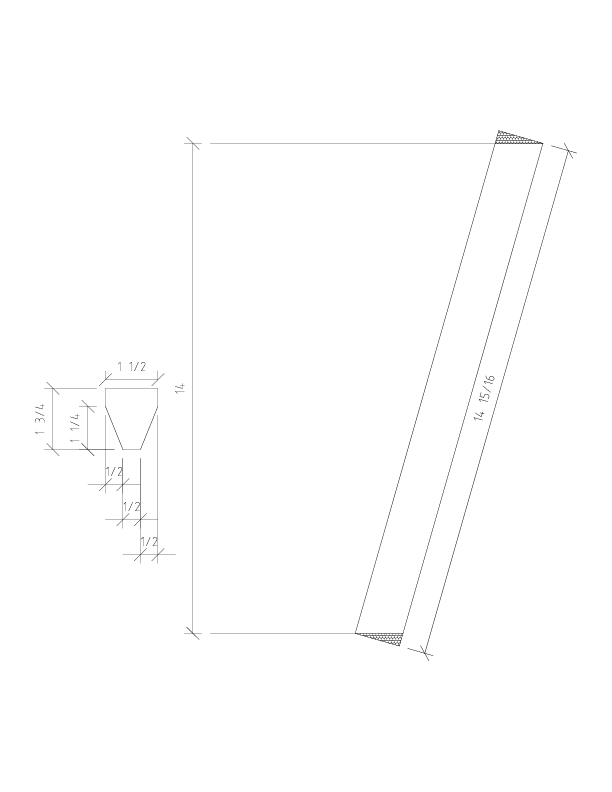 A quick bit of cad work showed that I could get the needed pieces from the cast off bit of the 2×8 that I purchased for the chine and gunnel material.  So I picked a section that looked good enough and started shaping the wood.
I shaped the piece with my usual tools for this sort of thing.  A bench plane from harbor freight, a butcher knife, and a file.  The only truly tricky part was finding a way to clamp the piece down.
I did manage to chip a piece out, but it is close enough to the middle that it is going to be part of the cut off.
Shaping the piece by hand took about 45 minutes.  If I would have had a proper vise it probably wouldn't have taken more than twenty minutes.    A bench plane can take out a lot of material in a hurry, and even the file was pretty good at removing material.
Yes, a table saw would have been faster and easier (and neater), but you can build this particular boat without it.