I had some camera issues this trip, so this post will be mostly text.  That is unfortunate, because there were a lot of really cool memories that probably need a picture.
First of all, some background.  I had been planning a trip this particular weekend for over a year.  In fact, I wouldn't be surprised to find out that this particular weekend was chosen before KaeLynn got pregnant.  I wouldn't know, however, as I am very bad at remembering dates.  I just know it was a long time ago.  At one point this trip was going to be a trip to the Scofield Scout Camp, at another point it was going to be a white water rafting trip.
A month ago I was pretty sure that the trip was as good as canceled.  KaeLynn had a difficult delivery, and it did not seem likely that I would be able to go on any camp outs, or really do anything scout related, for the forseeable future.  However, this camp out did have one major thing going for it.  I was to be going camping with my good friend Karl Petty, and he and I both already had the time off.
It turns out that sometimes that is all that you need.
I would also like to thank my brother-in-law Cortney Boice for allowing us to use to use his cabin, and for his excellent advice on where to actually make our camp. Without his generosity there is no way that this trip could have happened.
So, it was the Wednesday before the camp out, and I was not even sure that I would be able to go. I wanted to go. Heck, I really needed to go, but I wasn't sure if it was really going to be a possibility. KaeLynn said that she thought that I ought to try, and so I took the leap of faith and just told the boys that we would be going.
The next day my boss asked me to work Saturday.  This had never happened before in the four years that I have worked here, but it turned out to be a blessing.  I worked until 2:00 pm on Saturday, and then went up to Scofield, with most my children, to reconnoiter the location.  Cortney was up at the cabin, and he was going to be able show me how things worked. If I had not gone up beforehand I am quite sure that the camp out would have been a fiasco. It became immediately clear that while the cabin was a perfect base of operations for the camp out, it was not a suitable camping location. Fortunately, Cortney was not only able to show me everything I needed to know about his cabin–things like how to turn on the water–but he also was able to suggest a nearby campsite where we could actually pitch tents. So with three whole days to spare I actually had a location for the camp out.
The rest of the week was crazy. Working on Saturday had earned me an extra day off, and so I took that on Tuesday and spent the whole day getting ready. Karl and I didn't finish buying the food until Tuesday night at 11:00 pm. Even so, we managed to completely forget one of the dinners we had planned (tin foil dinners, for Thursday night). I had never been in charge of buying food for a multi-day campout and I definitely could have used a bit more planning.
No one died or was seriously injured though, so perhaps it was the right amount of planning after all.
10:00 am on Wednesday morning rolled around faster than I could have possibly guessed it could.  I spent the morning getting a piece of plywood that we needed for one of our planned activities.  I also needed to get my own stuff ready to go.  This meant that I did not have the boats loaded on the trailer before the boys started showing up.  This turned out to be a very bad thing.  Somehow in the confusion the milk can for the milk can dinner got left behind.
Before too long, however, we were ready to leave.  We even had one more boy go than I was planning on.  Scotty Wiltbank went up with us, and he proved to be a major asset.  Scotty can come camping with me any time.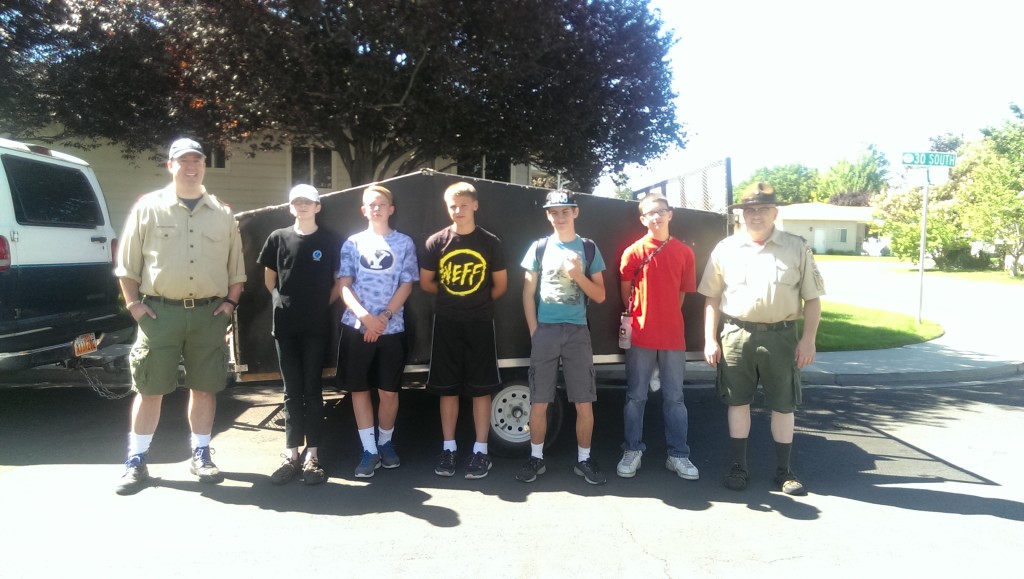 Karl Petty, Jason Earl, Zachary Earl, Shaden Anderson, Scotty Wiltbank, Miles Petty, Jacob Weakley, Jonas Brandow.
The drive up to the cabin was uneventful.  This was the first camp out where I had been able to drive the Monster Van, and I was more than a little apprehensive.  It drove fine, and pulled the trailer like a champ.  We unloaded our camping gear at the beautiful camp site that I had scouted out the Saturday before, and then we dropped the boats, food, and cooking gear off at the cabin.  Since I am not very practiced at backing the trailer up, and Cort's cabin is on a narrow, dead end road, this involved unhooking the trailer and flipping it around by hand.  In the end, however, we were able to unhook the trailer and just use the van to shuttle back and forth between the cabin and the camp site.  I feel that this actually worked out very well.
We got everything set up with plenty of time to actually have some fun on Wednesday.  However, before I go any further I probably should include the itinerary the boys and I came up with before we left:
* Daily Plan
** <2015-07-29 Wed>
*** 12:00 Arrive
*** 15:00 Rowing? (Free Time)
*** 18:00 Start Cooking Dinner (Milk Can Dinner)
*** 19:00 Dinner
*** 20:00 Assault on Island
*** 21:00 Devotional
*** 21:30 Astronomy
*** 23:00 Sleep
** <2015-07-30 Thu>
*** 06:00 Leave Island
*** 08:00 Breakfast (Sour Dough Pancakes)
*** 09:00 Small Boat Sailing
*** 12:00 Lunch
*** Free Time
*** 18:00 Start Cooking Dinner (Tin Foil Dinner)
*** 19:00 Dinner
*** 20:00 Devotional
*** 20:30 Build a Chuck Box?
** <2015-07-31 Fri>
*** 08:00 Breakfast (Eggs, Bacon, Hashbrowns)
*** 09:00 Hike
*** 12:00 Lunch
*** Another Boat Merit Badge
*** 18:00 Start Cooking Dinner (Hamburgers)
*** 19:00 Dinner
*** 20:00 Devotional
*** 20:30 Night Games?
** <2015-08-01 Sat>
*** 08:00 Breakfast Cold Cereal (Eggs, Bacon, Hashbrowns)
*** 09:00 Break Camp
*** 12:00 Lunch
I am mostly including the itinerary for comedic value.  As I will demonstrate, we basically didn't follow it at all.  We did get out on the water at about 3:00 P.M., but we certainly did not start working on the rowing merit badge.  In fact, it was about this time that I found out that the mast for Nephi's Courage had been damaged in transit.  The large lag screw at the top that I use as an attachment point had banged around enough that a large chip had fallen out of the mast.  It was a small miracle that I didn't lose the screw somewhere on the highway.
I briefly considered making field repairs on the mast.  However, in the end I simply decided to sail the boat without the jib and stays.  Balancing the boat in this configuration was pretty easy.  I simply had to tilt the leeboard back until the boat balanced.  However, there is no question that this made the boat much harder to tack.  There is no question that the jib adds a level of complexity to the handling of the boat.  However, after a couple of days sailing her without the jib I have come to the conclusion that the jib is definitely worth the trade off.  Being able to backwind the jib makes tacking effortless.  In fact, it is easy to tack accidentally if you get too close to the wind.  Once the jib gets backwinded you are coming about whether you want to or not.
The other huge advantage of the jib is that it required stays.  I definitely noticed the difference sailing Nephi's Courage without stays.  I could tell that the mast partner and step were getting a real workout without the stays.  When the wind piped up, or when the boat tacked it was not uncommon to hear a groan of complaint from the mast.  Plus, the side stays protect the gooseneck when running downwind.  With the stays up the boom can only go so far forward before running into a stay, where the boom then rests supported at two points.  Without the stay all of that force is on the goosneck, and at least on one occasion on this trip the gooseneck got a real workout.
But that's getting ahead of myself.
While I was getting Nephi's Courage set up most of the boys took the kayaks for a spin.  They immediately headed for the island that was just offshore.  We had 3 plastic kayaks available to us courtesy of Brother Barhsdorf, and I also brought my mouse boat.  One of the kayaks was a Wave Junior that you basically sit on top of.  The other two were Tiger Sharks.  Miles learned a valuable lesson on self rescue in one of the Tiger Sharks.  He over balanced and swamped the kayak, and soon learned that once the kayak was full of water that it was basically impossible to use as a boat again until it could be pulled into shallow water and emptied.
With my permission Jonas (wearing a life jacket) swam out to "help" Miles.  Of course, this just put two boys floating a few hundred yards off shore with a swamped kayak, but it did give me enough time to rig Nelphi's Courage for rowing in relative peace.  The water was warm, and everyone involved had a life jacket, so there was essentially no danger.  In light wind the pdracer actually rows quite well, and setting up to row takes just a few minutes.  Once I was on the scene pulling the boys into the sail boat was easy.  The flat wide boat means that standing up and pulling boys over the side is very straightforward.  I spent a fair amount of time on this trip "rescuing" boys, and the pdracer proved a very capable craft for this sort of activity.  With even just a little bit of wind it was faster than the kayaks, it is stable enough for crew transfers to be straightforward, and it will hold a lot of boys without complaint.
There was very little additional excitement for the rest of the evening.  All of us made a trip to the island, and we pretty much all decided that moving gear out to the island so that we could sleep out there was not worth the trouble.  It was a good thing too.  It got quite cold that night.  Without tents we would have all frozen.
At 6:00 P.M. we pulled all of the boats up on the shore and adjourned to the cabin to make dinner.  It was then that we realized that we didn't have a milk can for the milk can dinner.  Nor did we have a pot big enough to use as a replacement.  Eventually the boys ended up eating sandwiches and potatoes that they baked in the microwave.  Having access to electricity was a beautiful thing.  Jacob Weakley was dropped off by his father around dinner time.  He wasn't able to leave with us.
After dinner (and a movie, electricity was nice), we drove out to the campground to get some sleep.  As I mentioned earlier it was cold that night.  Jonas woke me up at 2:00 A.M. and ended up sleeping in the van.
Thursday was mostly more of the same.  The boys took out the kayaks and went fishing.  I sailed Nephi's Courage and tried to make sure that everyone had a buddy, and that they didn't wander off too far.  The original plan had been to work in some boating merit badge requirements, but we got a late start and most of the boys wanted to go fishing instead.  We've gotten quite a few merit badges completed this summer, and so I decided to let the boys just have some fun playing.  Besides, I wanted to sail.
After watching me sail circles around him most of the morning Jonas decided that he would like to try his hand in the sailboat.  I told him that was fine.  I assumed, of course, that I would be with him in the boat, as he doesn't really know how to sail, but he insisted on trying it by himself.  I was a little worried about Nephi's Courage, but I decided that I would let him try it out, and that I would follow, as closely as I could in the mouse boat.  After a bit of trial and error Jonas was able to get the boat on a beam reach headed directly toward the island.  It had taken quite a bit of yelling on my part, but Jonas was sailing.
Jonas soon passed out of the reach of my voice, and then I realized that he had no idea how to actually stop the sailboat.  Sure enough, 15 minutes later Jonas sailed the boat full speed up onto the island.  Fortunately, he did manage to miss most of the rocks.  I was very concerned about the boom and gooseneck, however.  The wind was now pushing the boat up onto the shore, and it was blowing quite fiercely.  Without the stays to keep the boom from going too far forward I knew that my gooseneck (the most expensive single piece of the boat) was in jeopardy.  Luckily I was able to paddle my mouse boat up onto the beach before anything bad happened.
Jonas, of course, was thrilled with his newly-found prowess as a sailor.  So with my help we quickly got the sailboat pried off of the beach and headed back to where we had started.  However, this time the wind had picked up considerably, and Jonas had gotten a bit tangled up in the main sheet.  Next thing I knew the PDR was heeling over to an alarming degree.  Jonas wasn't even paying attention to where he was going.  He was simply turned around backwards yelling at me with a terrified look on his face.  I thought for sure that I was finally going to get to do a capsize test of Nephi's Courage, and I immediately became concerned for all of my gear in the boat that I knew was not tied down.  Jonas didn't capsize, and he even managed, with a little help, to get the boat turned into the wind.
At that point, however, he wasn't even the slightest bit interested in sailing any more.  Getting into the PDR from the mouse boat was exciting, but it didn't take long, and then I dropped Jonas off on the beach.
That night we finally got our milk can dinner.  Brother Narcisso brought up the milk can and some of the other things we had left behind.  Dinner was delicious.
Friday started with the planned hike.  Then we hung around the campsite for a bit.  We mostly played in the stream instead of the lake.  Jonas wandered off and I had to go find him.  It took long enough that I really started to get nervous.  Afterwards we had an impromptu talk on the buddy system.  That night Brother Howard showed up and we had hamburgers (with bacon).  All of the boys did a really good job both of preparing their own meals, and cleaning up after themselves.  I have never really seen that work successfully, and it shows that we have a pretty mature group of boys.  It did help that we had a few of the 14 year-olds with us.  After dinner we watched a movie.
Saturday we got up, cleaned up the camp and my brother-in-law's cabin, and headed home.  The Monster Van performed very well.
Do you want to hear about how I repaired the Mast?  I have a two part series you can read about this repair.  Read Mast Repair and Mast Repair (Part II).